DISCLAIMER: You may not reupload any of the contents inside this modpack without the permission of both the CMC Studio and each and every single one of the creators of the mods featured here as a whole.
If you're a content creator in sites like YouTube and the like, please give credit to the CMC Studio in the description section of your content or any similar fields that may apply. This is an official compilation of mods for a Smash fangame made out of love, fun and passion many, many people have for it.
Respect our wishes for creating content as much as you want us to respect yours. Thank you.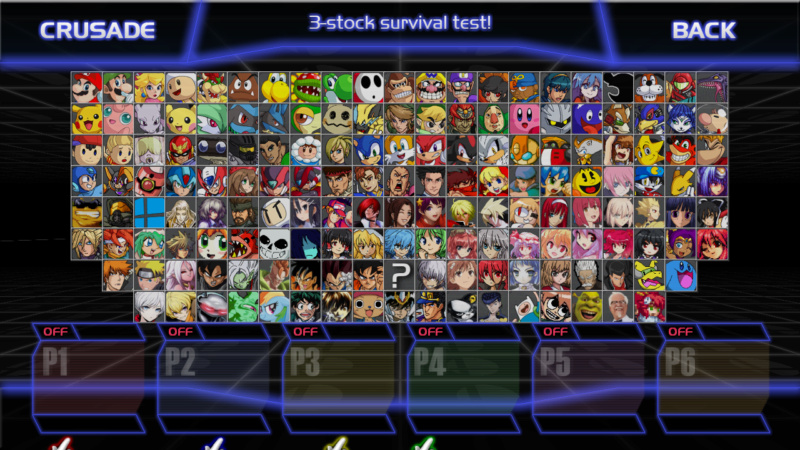 Hello everyone! We're proud to present to you the latest version of CMC Plus yet...Say hello to
CMC+ V5!
As you may well know (or not, in which case continue reading!), CMC+ (stands for Crusade Modding Community) is the biggest official modpack to date, including many, many character and stage mods both released here and exclusive to the modpack itself, as well as a myriad of perks and features that the regular vanilla Crusade build currently doesn't allow for (an all new Assist system, the ability to assign stages to characters for them to appear in in Classic Mode, alongside many more!).
This is a standalone heavily modified Crusade build; this means you download it somewhere else separate from your vanilla Crusade build, you extract it (and extract the music zip inside the game's music folder afterwards) and you're good to go. You don't need to combine it with your vanilla Crusade build; that will only cause problems on your end due to the additions the CMC+ executable has over the base Crusade version.
Featuring:
• A whopping 173 total unique characters (without counting alternate forms)!
• A staggering 170 unique stages in which to duke it out!
• A total of 24 assists from which to choose to help out in the heat of battle!
• And many, many other things.
If you wish for a slightly more in-depth showcase of everything that's new, you can go ahead and watch this trailer video made by Agent-5, one of the members of the CMC+ Dev team:
Enjoy!
DOWNLOAD LINKS:
• Base build (Lacks the music for everything aside from the Menu theme and victory):
Click here!
• Music-only (Doesn't have the game files and only has the music tracks, extract this inside the music folder):
Click here!